Well,...We Know Who Our Friends Are Now!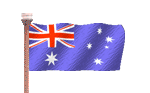 Australia Nabs 17, Claims Foiled Terror Attack
Tuesday, November 08, 2005


SYDNEY, Australia
— Australian authorities arrested 17 terror suspects on Tuesday -- including a prominent radical Muslim cleric sympathetic to Usama bin Laden -- and said they had foiled a major terror attack on the country by men committed to "violent jihad."
The Australian Federal Police said the men were arrested in Sydney and Melbourne in coordinated raids that also netted evidence including weapons and apparent bomb-making materials. A prosecutor said the cleric, Abdul Nacer Benbrika -- also known as Abu Bakr -- was the ringleader.
And while we're at it,..give a big hand to the US's chief ally in the Pacific,
John Howard!