Now, I'm Getting P**sed!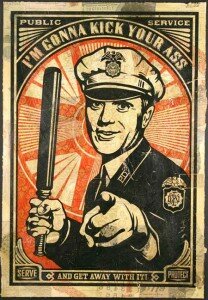 Is this low-level terrorism on a local scale??
First, this needed to be posted from
Wyatt's blog
:
Yesterday, a thug was arrested and brought into the division for retail theft. The rocket scientist stole five tubes of toothpaste - a product the man obviously never used in his life.
When the offender was being processed - in the same police station where John Pawlowski worked - the arresting officer asked him for his biographical information. And that's when it happened.
The man immediately exploded and yelled the one thing you should never yell 12 hours after a police officer is murdered:
"This is why all you f**king white boys are gettin' shot!"
Think its some local a**hole mouthing off at the wrong moment? Read on,...
Jailhouse Islam Behind
Cop Killing?
Sources: Suspect Said 'Can't Believe
I Shot A Cop'
PHILADELPHIA - The fact that Rasheed Scrugs allegedly announced he was going to kill a cop and then shot Philadelphia Police Officer John Pawlowski with a gun hidden inside his coat pocket has detectives digging deeper on Scrugs.
They're still gathering evidence and trying to unravel why Friday night's senseless murder happened, Fox 29's Dave Schratwieser reported.
"Pawlowski didn't stand a chance," Police Commissioner Charles Ramsey said Monday, as Philadelphia continued to reel over the killing.
A key witness went public Monday with the chilling words he heard the gunman say before the shooting.
"If you call the cop, I'll kill you and kill the cop," said Manuel Dias, who works in a newsstand at Broad Street and Olney Avenue, repeating what he told detectives.
Police believe Scrugs planned to shoot officers when they answered a 911 call about a fight on the highway at Broad and Olney at 8:20 p.m.
"This individual was very violent and was bent on killing someone," Ramsey said.
Scrugs was shot by Pawlowski's partner and another officer. He's now awake and talking, but he refused to be interviewed by homicide detectives.
Sources say Scrugs told a hospital staffer he was high on drugs at the time of the shooting and allegedly said, "I can't believe I shot a cop."
"Well, he's a cold blooded killer is what he is, and he knew exactly what it is he wanted to do," Ramsey said.
Ramsey told Fox 29 News that police are now trying to determine if Scrugs -- who also goes by the alias Rasheed Abdulghaffer -- may have converted to a radical form of "jailhouse Islam" during his years in prison.
Ironically, Ramsey said he was briefed by FBI agents on Friday about this radical form of Islam. That was just hours before Pawlowski was shot.
Ramsey said there's a growing concern among law enforcement.
"This is a radical form where certainly committing crime and killing police officers and so forth is part of it," Ramsey said.
Police experts and the FBI are now researching whether Scrugs and Sgt. Stephen Liczbinski' accused killers -- Howard Cain and Levon Warner, who are accused of wearing Muslim clothing during that murder -- were schooled in jailhouse Islam.
"Since Steve Liczbinski got killed, this issue has really been something that has struck home here in Philadelphia," Ramsey said.
Police sources said the .357 Magnum that Scrugs allegedly used was from out of state. Federal ATF agents are tracking the gun's owner down. Ramsey said whoever sold or gave the gun to Scrugs may be prosecuted.
Police said Scrugs had 19 packets of crack and 19 extra bullets in his pockets at the time.
Dias said he was watching Friday night when Scrugs carried through on his violent threat.
"As soon as the cop asked him to take his hand out of his pocket to give him something else, he just pulled the gun and shot the cop for no specific reason," Dias said. "Some screamed 'Help! Help!' right here, and they tried to put him on the car. … I was afraid to die because this is serious."
Dias hid on the floor of his newsstand, fearing for his own life, as police shot and wounded Scruggs.
The Bitter American seethes:
Ok,..its time to start asking the tough questions about what the hell is going on in Philadelphia! It could be terrorism at some low level. Or it could simply be what has become of our society. If Brian Tierney wasn't such a gutless pussy, I'd like to see him line up the pictures of the seven slain officers on one side and the pictures of their assailants on the other side. Absent Ofc. Isabel Nazario, the obvious would be a simple as black and white.
That's right, I said it! Google can cancel my blog now. The NAACP, instead of "advancing colored people," can start chasing after me and protesting in front of my house. (Jerry Mondesire - Call me, I'll give you the address!) No, instead, they've been eerily silent on the subject. Seems advancing colored people these days primarily involves throwing Oreo cookies at Michael Steele and discrediting the likes of Bill Cosby for telling them what they don't want to hear.
But wait until some white officer finally cracks from the stress of being a target and cracks his nightstick over the head of one of these jokers. then we'll here from the NAACP.
Its a disgrace and a dishonor to the men and women who put themselves in harm's way every day to protect ALL of the citizens of Philadelphia and its SICK!
Labels: Islamofascists, LODD, Philliness, Thin Blue Line