Semper Fi! Do or Die! Gung-Ho! Gung-Ho!
A member of the extended TrekFamily makes the news!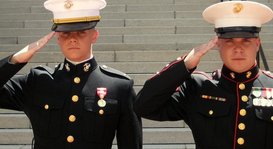 Lt. Strieby (L) and Cpl Toms (R)

Stephen Strieby and
David Toms
used to play "fort" every sunny afternoon in Tabernacle when they were in middle school 11 years ago. Now, their childhood fantasies have become a reality: The two are serving in the United States Marine Corps.
Toms, a corporal, has been deployed to Iraq twice. Strieby, who graduated from Florida State University in April, was commissioned as a second lieutenant and will soon head to Quantico, Va., for further training.
And it's not a big surprise, because Toms and Strieby always took their playtime pretty seriously.
"They kept our neighborhood safe from all the bad guys," said Terry Nichols, who lived next door to the Striebys before they moved to Atlanta when the boys were in high school. "They were always out there patrolling."
The boys set up log forts around Strieby's backyard on Sherring Way and found rug fragments and other adornments by searching through trash that neighbors left for the garbagemen on the sidewalk every Wednesday, Strieby said.
Their "luxury fort" was called Fort Freedom. It featured a radio and was bigger than the outpost forts closer to the road on the edge of Strieby's property, he said.
On a typical summer day, the boys would dress in full camouflage gear and steel combat helmets for their mock battles.
"We'd fight the Germans in the afternoon, then we'd fight the Vietnamese in the evenings," Toms said.
The gear had been handed down from their fathers. Toms' father had served in the Army, Strieby's had been a Marine.
"Now that I'm older and actually using this [gear], it's kind of miserable carrying it all around, but as kids, we loved it," Strieby said. "The helmets were hot, but we loved it."
Strieby and Toms had real weapons to carry during their play patrols, including an antique bazooka and hand grenades, all nonworking, of course. But the boys did carry real ammunition in their BB guns.
One afternoon, a family gathering by Nichols' pool was interrupted when her mother-in-law felt a stinging pain in her ankle.
Toms had hit her with a BB, Nichols said, but she recovered immediately and forgave him.
"The boys were very apologetic," she said, adding that she likes to tease Toms now by asking if his aim has improved since then.
Strieby moved to Atlanta right before Toms went to Shawnee High School in Medford, but the two kept in touch, said Toms' mother, Barbara.
"The love of the military and the love of the Marines just continued on with the boys as they grew," she said.
Although the thought of her son and Strieby joining the military crossed her mind, she said she never really expected them to do it.
Toms enlisted after graduating from high school in 2003, while Strieby went to Florida State University, where he was part of the Marine Corps ROTC.
Strieby was there to see Toms graduate from boot camp and become a Marine in 2003, and Toms was there to give Strieby his first salute upon receiving a commission in April.
Both Marines said the military had been their passion growing up, and enlisting was simply a natural progression from the days of their childhood role-playing.
Toms looks back on his military experience positively.
"It was quite a trip," he said. "I was honored to served my country. . . . I definitely felt some progress was made while I was over there" in Iraq.
He said he hopes to go to college and become a high school history teacher after he leaves the Marines in September.
Although they didn't see each other often during their high school years, their friendship has been strengthened by the bond they share as Marines, Strieby said.
"It's like nothing has changed," he said. "When we're laughing about things, it's like we're 12 years old again, laughing about something that happened in a video game."
Strieby calls Toms his "brother" and hopes they will live close to each other when they get older. That way, he said, his children would be able to get to know their "Uncle David."
Until then, Toms and Strieby will get to keep patrolling and protecting as they did when they were childhood friends, except that now their guns have real bullets instead of BBs, and their field of battle is a little larger than Strieby's Tabernacle backyard.
"I'm living the dream," Toms said. "Even since I was little, I've wanted to serve my country."
Labels: American F**k Yeah, Semper Fi